Lit Glitter Kit
$26.00
Product details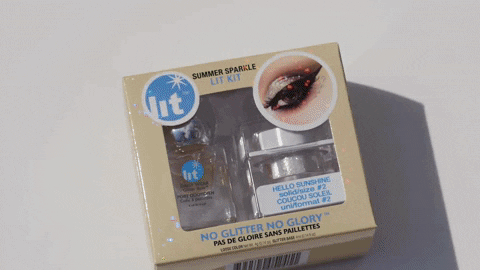 Lit Glitter Kit:
A high-performance, high-sparkle kit with one loose glitter pigment, a 4ml liquid glitter glue, sparkle wand and a mini brush for the ultimate glitz.
Metallic makeup more your thing? We have a Lit Kit | Metallic combo too.
What It Does:
This glitter eye shadow and body makeup set is designed to give a clean, controlled application. The "Daily Wear" base adheres glitter to any skin surface, adding all-day shine that stays where you want it.
Contains:
4ml (0.14 fluid oz) "Daily Wear" Glitter Base
4g (0.14 oz) Glitter Color
Synthetic Brush Applicator
What it is formulated WITHOUT:
Parabens
Sulfates
Phthalates
What else you need to know:
Our base vegan, hypoallergenic, and cruelty-free.
Remove with warm water and face cloth or makeup pads.
The adhesive does not lift base makeup it actually acts as a protective barrier keeping your makeup from fading, creasing or loosing color.
Our gkue works as the perfect Cosmetic Enhancer to all other Brands and products = Lipstick/glosses, shadows, eye/brow liners, blush, mascara, nail polish, hair and body lotions.
Hint: darker glitter colors look best with a dark makeup base while a white base will "POP" lighter glitter color.
Remember to have fun blending multiple colors and play with different shades of eyeliners/shadows to create cool effects.
After product has dried tightness may occur but don't panic! Your skin surface will loosen up within 20 blinks - and now your Lit baby!
Ingredients:
Daily Wear Glitter Base:
Water, PVP, Hydrolyzed Soy Protein, Butylene Glycol, Polysorbate 20, DMDM Hydantoin, PEG/PPG-18/18 Dimethicone, Panthenol, Glycerin, Fragrance.
Glitter:
Polyethylene Terephthalate CAS-No 25038-59-9
Acrylates Copolymer CAS-No 9010-88-2
Surface Binder CAS-No 125826-44-0 Polyurethane 33
Polyethylene Naphthalate CAS-No 25853-85-4
Polymethyl Methacrylate CAS-No 9011-14-7
Acrylic Resin
Melamine Resin
Aluminum CAS-No 7429-90-5 CI 77000
Brushes:
Bristles: Brown PBT (highest grade of synthetic)
Handle: Wooden with Silver and Sparkle exterior
Buy at Beautylish
Buy at Bloomingdales | Glowhaus
Glitter Details

What it is:

A loose, high-sparkle cosmetic grade glitter, which casts maximum light reflection. Lit also offers a "Rounded" glitter shape opposed to a "Square" or "Diamond" shape to aid in complete comfort on skin surface also giving you a smooth application.

What It Does:

There are NO RULES when it comes to Lit! Add a little glitter over your shadow, liners, lipstick, eyebrows, blush, body lotions, hair spray, nail polish, love letter, whatever your little heart desires.

Contains:

Net Wt. 4g (0.14 oz) Glitter Colour

NOTE: Each rounded particle of our specialized cosmetic grade glitter is encapsulated in cross-linked binders known as polyurethane 33/Acrylic Resin and Melamine Resin therefor pigment will not come in contact with any skin surface thus never leaving stains or color residue nor will these solvent resistant glitter particles breakdown over time.

What it is formulated WITHOUT:

Parabens
Sulfates
Phthalates

What else you need to know:

This product is vegan, hypoallergenic, and cruelty-free.

Glitter Ingredients

Polyethylene Terephthalate CAS-No 25038-59-9
Acrylates Copolymer CAS-No 9010-88-2
Surface Binder CAS-No 125826-44-0 Polyurethane 33
Polyethylene Naphthalate CAS-No 25853-85-4
Polymethyl Methacrylate CAS-No 9011-14-7
Acrylic Resin
Melamine Resin
Aluminum CAS-No 7429-90-5 CI 77000